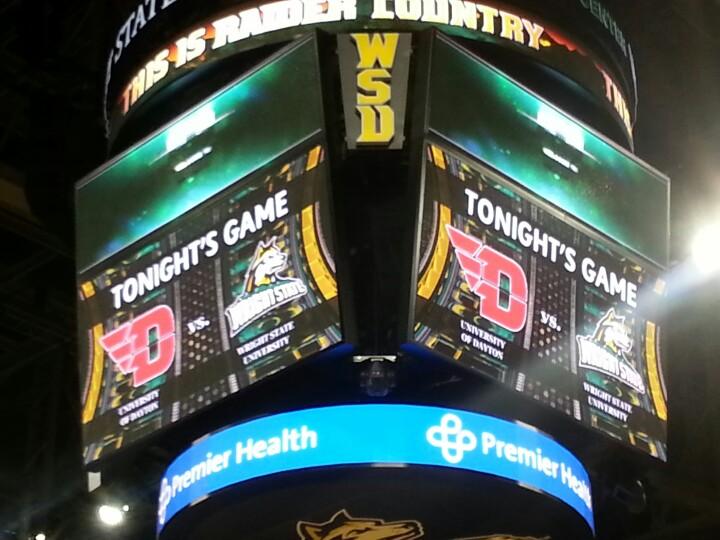 Greetings readers,
For the first time in a long time, I'd like to talk about an experience I had at a sporting event. This one is at a special place near and dear to me, with two teams that I'd be involved with.
On December 3rd, I went back to my Alma Mater: Wright State University. It's been over four years since I walked for my diploma. It's been a few years since I called a Wright State basketball game at the Nutter Center (I believe it was the scrimmage between Central State and Wright State back in 2012.) It's been a few seasons since I just bought a ticket to watch a game in person (I believe it was in 2011 when Cincinnati was in the house.) I had to catch this game in person: Wright State hosting the Dayton Flyers.
As you might know, I work for UD mainly as a Public Address Announcer. I've also dove into video broadcasts for the soccer teams this season (including the A10 Championship call in early November.) Where did I get my start in sportscasting, however? Wright State and their college station, WWSU.
I'm no stranger to WSU vs. UD Women's Basketball, calling almost of those matches on WWSU both at the Nutter Center and UD Arena. I've made it to most of the battles (except for last year's due to bad weather.) I always love the match-up; two NCAA Division I schools, not too far apart in their separate sides of Dayton (East and South, respectfully.) I'm not driving into the hornet's nest of "Why don't the Men's Basketball teams play?" because that honestly goes nowhere and I'm not here to fuel that fire. I'm here to talk about my experience of WSU vs. UD Women's Basketball.
Right off the bat, I saw that Dayton had a special promotion of getting fans over to the Nutter Center, and it showed. At least 3/5ths of the fans donned the Red and Blue. That's not to say Wright State lacked fans, as there was plenty of Green and Golds in the stands. It was a loud Nutter Center, with nearly 1,600 in the stands staying loud and stating their love for the Black and White Stripes.
The Raiders had the first basket of the game, but UD answered back with an 10-0 run. At one point the Flyers built a 16 point lead but WSU trimmed that down to one and had an opportunity for their second lead of the game, but went to the locker rooms with a 36-35 deficit. Wright State's Tay'ler Mingo had 17 points at the half, while UD's Ally Malott had 11. The Flyers out-rebounded the Raiders 25-20 at this point.
The 2nd Half was the best half of basketball to see. Wright State jumped back on top, but Dayton answered right back in the next possession. The Flyers got the lead back up to 9, but WSU battled back most of the 2nd half. In the end, UD won 79-76.
The Raiders Tay'ler Mingo scored a career-high 32 points in a Wright State jersey, including a last-second three-pointer. Mingo (Akron, Ohio: Regina HS, senior year at WSU) had 31 in the Horizon League Championship game vs. Green Bay last season. For the Flyers, former Middletown Madison Mohawk Ally Malott had 18 points and 11 rebounds. Both teams finished with 41 rebounds.
The all-time series now stands 36-4 in favor of the UD Flyers. The last Raiders win, you ask? Back in 2006, when I was a freshmen in college (and the only game I didn't get to call of the series while in school.)
Overall, I had a good time at the game. It was different sitting in the actual seats (compared to where I usually sat in college, in with the student media.) I got to catch up with some good folks, I got to see a competitive game, and I had a night of just watching a game. Not bad.
I wish I had time to stop back by WWSU and some of the other places I used to hang out at, but maybe that's another trip. Maybe the next one?
Here are some more links if you'd like to re-live that game:
Dayton Recap
Wright State Recap
The Guardian's story (Wright State's Newspaper), written by Justin Boggs.
Box Score (from WSU)

Tweet of my gear supporting both teams: 
Until next time,
-Lee